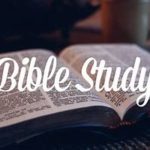 Do you have a bible question or observation for which you seek greater understanding? If you'd like others to also consider it, submit your question (without your name) below and Pastor Beinke will consider it and post a Q&A response.
Q: This virus trouble raises great uncertainty personally and for the country. The Lord's Prayer includes "Gives us our daily bread" but what should I pray for or know through the bible at this time?
A: In Matthew 6:34 we know this; "Therefore, do not be anxious about tomorrow for tomorrow will be anxious for itself. Sufficient for the day is its own trouble." In the Lord's Prayer we pray that, in humility, we would look to God for what we need each day so that we do not need to worry about the future. 1 Timothy 2:1-2 also instructs us to pray for authorities and the structures of our economy to provide the settings for work and receiving our daily bread.