Jesus said, 'Let the little children come to me, and do not hinder them, for the Kingdom of Heaven belongs to such as these.' Matthew 19:14
Sunday School | 8:45am-9:45am
Sunday School (September through May)
Classes for 4 year-olds through 8th grade are held in our lower level classrooms. Three separate bathrooms available within and adjacent to classrooms for any needs before, during, and after.
The adult bible study meets at the same time across the hall in the Fellowship Room. Parents – drop off your children across the hall and join in adult bible study with coffee and pastries!
Check in on your children at any time and be nearby upon class dismissal. You're also welcome to await your Sunday School children in St. Peter's library in the Lower Lever.
Fun Fact 1: Students and members live in 10 area towns.
Fun Fact 2: New classrooms, bathrooms, and Lower Level in 2021.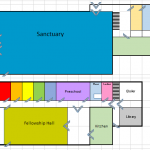 ---
[ditty_news_ticker id="4808″]
Welcoming Families and Parents of School-Aged Children
St. Peter's Pastor, Sunday School Director, and our entire congregation values highly the Christian education of children, youth, and High School students. From early school-aged bible-based learning to Catechism class for teenagers, we welcome individual students and entire families. Call or email our church office and Pastor Beinke for details and any questions.
Looking for some children's bible story content? One of many resources is Concordia Publishing House's 120 Bible Stories book for children. Below is a preview of 17 stories. To get a copy, ask us when visiting St. Peters…or find it directly at CPH by clicking HERE.
Preview 17 Bible Stories | Click on cover below to use page arrows! Click button to download PDF!
120-Childrens-Bible-Studies-17-Story-Intro