When those around Jesus looked at Him during His suffering and death, what did they see?
In most cases, people misunderstood who He is and what He was doing. In some cases, by faith, people recognized Him aright.
Our Lenten series this year, based on the Gospel according to St. Mark, will examine how Jesus was viewed—and how we should view Him. We will "fix our eyes" on what Jesus has done to save us from our sins by His holy, precious blood and innocent sufferings and death, and celebrate what God sees on account of His work: our justification for His sake.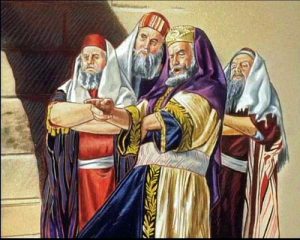 "Murderous Eyes" is the theme of Wednesday, March 25. The chief priests and scribes, who saw Jesus as an obstacle, sought to be rid of Him by murdering Him through the Roman judicial system.