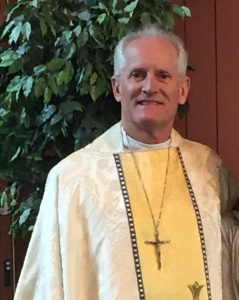 Pastor Robert Beinke
Pastor Beinke is originally from Cincinnati, Ohio, which he might tell you soon after you've heard of his many loves besides the Lord including his wife Lorayne, three daughters, grand-daughter, and that little white ball found at the golf course. In fact, Cincinnati is the home course of the Greater Beinke Open, a golf memorial for his lifelong friends and family honoring his late father.
An early curiosity about mechanical swings and motion led Pastor to pursue Mechanical Engineering at the University of Cincinnati, but he'll tell you that "after three years of "straight C's in Calculus" he was led by the Lord for the Holy Ministry. He finished his college studies at Concordia College in Ann Arbor, MI.
During Pastor's vicarage (training as an embedded assistant in a church) in 1984 in Dedham, MA, he met his wife, Lorayne. They married in 1986 and have remained in New England since, though he's been told by real New Englanders that it isn't time that makes one a New Englander!
SERVING IN THE COMMUNITY
Since 2002, Pastor has been involved in visiting monthly several inmates at several prisons in CT. This has proven to be a great blessing to him and the congregation, as well as to these men. He's also involved in Chaplaincy work with law enforcement, for instance in 2005 Pastor was sworn in as a Chaplain to the Norwalk Police Department and regularly rides along with officers. Being out in the
public gives him greater opportunity to reach out into the community, as well as to our police officers, with the love of Christ.
Pastor works with STAR, a Fairfield County organization that helps people with Developmental Disabilities, and especially with the STAR program that meets at the church from Monday – Friday. In 2013, Pastor was also appointed a Chaplain with the State Police and assigned to the Bridgeport barracks. He also leads a bi-weekly adult bible study in the neighboring town of Wilton.

PASTOR BEINKE IN THE MISSOURI SYNOD (LCMS)
Pastor Beinke serves as the 1st Vice-President of the New England District of the LCMS, a position which takes him to various congregations and activities throughout New England, where yes, he's still not a real New Englander, all of which puts him in great company with those at St. Peters – regardless of whether they are from New England or the many other places!
CONGRATULATIONS PASTOR – ON YOUR 25th YEAR
In 2019, Pastor's 25th year at St. Peter's is being celebrated! St. Peter's is only his second congregation – the first being at Our Savior in Londonderry, NH.
Go To Pastor Beinke's YouTube Channel
https://www.youtube.com/channel/UCdosHpjA-Zs3nxTGiBmqEzg
Share With Others
In my own words: I am a Midwesterner, having grown up in Cincinnati, Ohio, at Christ Lutheran (LCMS). My college studies began at the University of Cincinnati, studying Mechanical Engineering, but after three years (and straight C's in 20 credit hours of Calculus), I was led by the Lord to study for the Holy Ministry. I finished my college studies at Concordia…