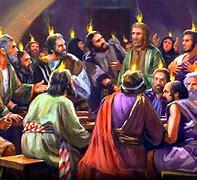 Psalm 89: I will sing of the steadfast love of the Lord, forever; with my mouth I will make known your faithfulness to all generations.
Liturgy-may-31-PENTECOST

Pentecost: 50th Day
The name Pentecost, meaning "the fiftieth day," originally referred to the Jewish Festival of Weeks, the time of thanksgiving for first-fruits and the in-gathering of the harvest (cf. Ex. 34:22). The Christian Church retained the name to mark the completion of the 50-day period after Easter—and the first in-gathering of believers into the Church.
3rd Article of The Creed
In his explanation to the Third Article of the Creed, Luther details the Spirit's work, giving us a very personal confession of faith for Pentecost:
I believe that I cannot by my own reason or strength
believe in Jesus Christ, my Lord, or come to Him;
but the Holy Spirit has called me by the Gospel,
enlightened me with His gifts, sanctified and kept
me in the true faith.
In the same way He calls, gathers, enlightens, and
sanctifies the whole Christian Church on earth, and
keeps it with Jesus Christ in the one true faith.
In this Christian Church He daily and richly forgives
all my sins and the sins of all believers.
On the Last Day He will raise me and all the dead,
and give eternal life to me and all believers in Christ.
This is most certainly true.